2022 Ford F-150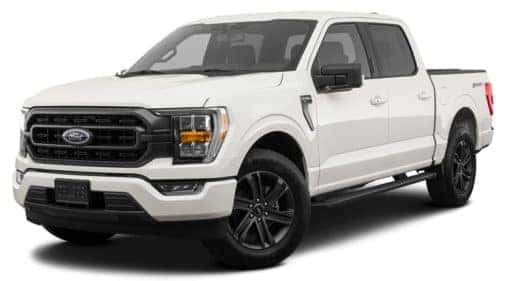 Starting at
$29,990[a]
2022 Ram 1500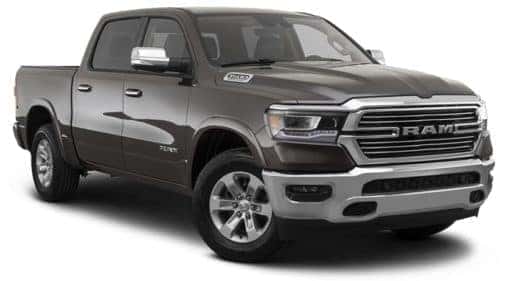 Starting at
$35,900
| | | |
| --- | --- | --- |
| 290-430 | Horsepower (hp) | 260-395 |
| 265-570 | Torque (lb-ft) | 269-480 |
| 14,000 | Towing (lbs) | 12,750 |
You're looking for a new truck and are fully expecting to make a few sacrifices like scaling back on luxury features or innovative technology in exchange for a more affordable sticker price. But what if you don't have to settle for less than what you want and need in a workhorse? While Ram earns high praise for building luxurious trucks, its models often come up short with lagging technology and higher pricing. Ford manages to find this balance, as we see when comparing the 2022 Ford F-150 vs 2022 Ram 1500.
America's best-selling truck for over four decades, the 2022 F-150 is a modern marvel on wheels and starts at only $29,990. It's laden with luxury, comfort, and convenience features, as well as the latest in connectivity, safety, and driver-assist technology.* Ford redesigned the best-selling truck in 2021, but that doesn't mean big things aren't in store for 2022. The all-new, all-electric F-150 Lightning joins the family and introduces drivers to a new era of innovation and capability.
Ram shares Ford's dedication to giving drivers exactly what they need and more of what they want in a workhorse, but for Ram, this comes at a premium. Opulence isn't cheap, and the 2022 Ram 1500 is proof with its starting price of $35,900. You'll have to spend quite a bit more on trims like the Limited and 10th Anniversary Edition to enjoy the real luxury behind the Ram name. Even then, the Ram 1500's capability and technology are far surpassed by that of the Ford F-150, maintaining the F-150's long standing reputation as America's favorite road warrior.
Power

Capable Workhorses
There's no doubt that the 2022 Ram 1500 and 2022 Ford F-150 are both capable workhorses. However, there's a difference in capability when you start looking at the details. While Ram gives you three engine options, Ford delivers a broader range of power with five powertrains, and that doesn't include the all-electric Lightning. So, how do the engines compare?
The 2022 Ram 1500 comes standard with a 3.6-liter Pentastar V6 engine with eTorque. Mated to an 8-speed automatic transmission, the Pentastar delivers 305 horsepower, 269 lb-ft of torque, and a towing capacity of 7,730 pounds. Ram offers a 3.0-liter EcoDiesel V6 or a 5.7-liter HEMI V8 engine for a boost in power. The EcoDiesel delivers 260 horsepower and 480 lb-ft of torque for a maximum towing capacity of 12,560 pounds, making it an ideal option for those who pull heavy loads. The HEMI V8 offers a better balance of power and pull by providing 395 horsepower and 410 lb-ft of torque. Opting for the HEMI V8 with eTorque boosts the Ram 1500's towing capacity to its best at 12,750 pounds.
The Incredible 2022 F-150 Engine Lineup
The 2022 F-150 has an even more impressive lineup. It starts with a 3.3-liter V6 engine mated to a 10-speed automatic transmission to deliver 290 horsepower, 265 lb-ft of torque, and a towing capacity of 8,200 pounds, the latter of which is significantly more than its rival. Ford's EcoBoost engines are renowned for their performance, and that's certainly the case with the 2.7-liter Turbo V6 and 3.5-liter Turbo V6. The 2.7-liter churns out 325 horses and 400 lb-ft of torque to pull loads up to 10,100 pounds, while the 3.5-liter pushes this capability further with 400 horsepower, 500 lb-ft of torque, and a best-in-class 14,000-pound tow rating.
The F-150 with the 5.0-liter Coyote V8 under the hood offers an outstanding balance of power and capability. Like every other engine, it's mated to Ford's 10-speed automatic transmission and roars to life to deliver 400 horsepower, 410 lb-ft of torque, and a towing capacity of 13,000 pounds. For drivers looking for the best of both worlds––capability and efficiency––Ford answers with the 3.5-liter PowerBoost Turbo V6 Hybrid. This hybrid produces 430 horsepower and 570 lb-ft of jaw-dropping torque, giving the F-150 enough power to tow loads up to 12,700 pounds while getting 23 MPG combined.
Work Features

Innovative Designs
There is no shortage of functional features on the 2022 F-150 or the 2022 Ram 1500, and that's because the automakers are adamant about helping drivers work smarter and not harder. These features extend from easy-open tailgate designs and versatile cabins to digital displays and beyond, all of which you'll find across both lineups. But what distinguishes the 2022 F-150 from the 2022 Ram 1500, earning it a significant lead in the race against two remarkable road warriors? Innovation.
Knowing that a truck like the Ram 1500 is destined to tow heavy loads, Ram equips the model with tools like the Trailer 360-degree Surround View Camera and Trailer Reverse Steering Control. The camera extends the truck's traditional rearview camera by giving you an extensive, bird's eye view around the truck and trailer. Ram also makes navigating your trailer in reverse easier with Trailer Reverse Steering Control. When you're ready to park the trailer, use the Trailer Steering Knob on the dashboard to turn the trailer in the direction you want it to go as you watch its movement and positioning on the center touchscreen display.
Ford's Next Level Functionality
Ford takes functionality to the next level by including comparable tools like Pro Trailer Backup Assist, and extending the suite of work technology to include Smart Hitch, Onboard Scales, and Pro Power Onboard. Like Ram, Ford knows that a truck like the F-150 will be pushed to its limits, but segment-first tools like Onboard Scales ensure that drivers don't accidentally exceed those limits. The tool measures the approximate payload weight of the F-150, communicating that data via the SYNC 4 infotainment system on the center touchscreen display, the FordPass app on your smartphone, and an LED display in the taillamps.
While Ford offers a comparable 360-degree camera system, Smart Hitch takes the feature to the next level. The feature, located on the F-150's center touchscreen display, determines the approximate trailer tongue weight, a vital stat that lets you know if you need to redistribute the weight in your trailer for safer towing. Like the Onboard Scales, this information is available via the SYNC 4 system, your FordPass app, or the F-150's Smart Taillamps.
The F-150's Pro Power Onboard feature is impressive and gives you the most usable on-demand power in the segment, pushing the Ford ahead of the Ram yet again. With Pro Power Onboard, you can power tools, a television, appliances, and more via outlets located throughout the cab and truck bed. Ford even gives you three available outputs (2.0 kW, 2.4 kW, and 7.2 kW) so that you can outfit the truck with the power you need.
Safety and Driver-Assist

Advanced Safety Tools
Safety is a top priority for Ford and Ram, which means you can't go wrong with either the 2022 F-150 or the 2022 Ram 1500. However, when it comes to tools that make your time behind the wheel more enjoyable, the F-150 far outshines its rival. After all, it's hard to beat hands-free highway driving.
The 2022 F-150 and the 2022 Ram 1500 are equipped with comparable safety features that perform similar functions despite having different names. On the Ford, these features are centralized in the Ford Co-Pilot360 suite and include the Blind Spot Information System with Trailer Coverage, Pre Collision Assist with Automatic Emergency Braking, Auto High-Beam Headlamps, Intelligent Adaptive Cruise Control, Hill Descent Control, Evasive Steering Assist, and Acting Parking Assist 2.0. These features extend your visibility around the truck and actively monitor for potential collisions so that you have ample time to respond.
The Ram 1500 offers similar tools like Forward Collision Warning with Active Braking that, like Ford's Pre Collision Assist with Automatic Emergency Braking, actively watches the road ahead for potential collisions. If you fail to respond to the alert, the system can bring the truck to a controlled stop to minimize the potential for impact. Other tools include Forward Collision Warning with Active Braking, Parallel and Perpendicular Park Assist, Rear Cross Path and Trailer Detection, Blind Spot Monitoring, and LaneSense Lane Departure Warning with Lane Keep Assist.
Ford BlueCruise Hands-Free Driving
With so many similar tools, that begs the question, "How does the F-150 lead the segment?" It all comes down to BlueCruise, Ford's hands-free driving tool. Working with Intelligent Adaptive Cruise Control, Speed Sign Recognition, Stop-and-Go, and Lane Centering, BlueCruise can help you navigate over 130,000 miles of roads throughout the United States and Canada. BlueCruise allows you to take your hands off the wheel and enjoy the drive by relying on a driver-facing camera to monitor your focus on the road. This makes traveling long stretches of highway far less stressful and mundane.