2022 Ford Bronco Sport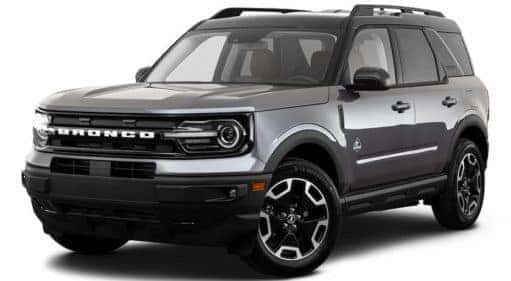 Starting at
$27,415
2022 Honda CR-V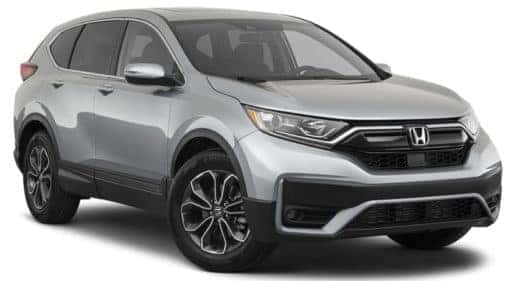 Starting at
$26,400
| | | |
| --- | --- | --- |
| 190-277 | Torque (lb-ft): | 179 |
| 181-250 | Horsepower (hp): | 190 |
| 2,200 | Towing (lbs): | 1,500 |
A good compact SUV offers capability, style, space, and safety, which is why these vehicles are growing in popularity. Drivers gain more space and capability than what a car can offer without getting a model that's too large and difficult to navigate. When looking at the 2022 Ford Bronco Sport vs 2022 Honda CR-V, it's easy to see many similarities. However, once you take a closer look at these two models, you'll start to see that the Bronco Sport offers more for the money.
There are several similarities between these two models. They both offer standard 1.5-liter turbocharged engines, they both include multiple trim options, and they have plenty of standard safety features. But there's more to these surface-level specs than most buyers realize. For example, while both vehicles offer standard 1.5-liter engines, the Bronco Sport offers significantly more torque, increasing its towing capability. Furthermore, the Bronco comes with a larger, optional 2.5-liter engine that increases its towing capacity even further.
It's also important to note that when it comes to off-roading and adventure-friendliness, the Bronco Sport far outperforms the Honda CR-V. The Bronco Sport is designed with all terrains in mind, and while the CR-V can handle dirt and gravel roads better than a car can, it isn't made to take too far off the beaten path. For a more hands-on approach, visit Newton Ford South to see (and test-drive) the Bronco Sport for yourself.
Off-Roading

Get Ready for Adventure
Both the 2022 Ford Bronco and the 2022 Honda CR-V offer great stats when it comes to the daily commute. Their fuel-efficiency ratings are sufficient, and some off-road capability is present on both models. However, the Bronco Sport has standard 4x4 capability, whereas the CR-V's only has optional AWD. In short, this means that if you want AWD capability on the CR-V, you will see a price increase.
Furthermore, each model's off-road capability is different, with the Bronco Sport offering a big edge over its competitor. The Bronco Sport's AWD capability includes five to seven different terrain modes called "G.O.A.T." modes. This acronym stands for "Goes Over Any Terrain." The Base, Big Bend, and Outer Banks trims include a collection of five different G.O.A.T. modes, while the higher Badlands trim includes seven standard G.O.A.T. modes. These modes include Sand, Slippery, Sport, Eco, and Normal, with additional Mud/Ruts and Rock Crawl modes available for more serious off-road drivers.
The Bronco Rises to the Challenge
In addition to these additional drive modes, the Bronco Sport Badlands includes an advanced 4x4 drivetrain with a Twin-Clutch Rear Drive Unit. Put simply, this means that when off-pavement, the Bronco Sport offers added traction thanks to appropriate torque distribution. While this feature is unnecessary on the highway, it's useful for off-road terrain–this is why it is only active when necessary. Plus, it works well with the standard G.O.A.T. modes for added security on the trails.
Think that's it for the Bronco Sport's performance? We're not finished quite yet. No matter which trim a buyer chooses, HOSS Suspension is tagging along for the ride. Since the Bronco Sport is designed for both casual commuting and off-road adventures, its HOSS Suspension is made for smooth pavement traveling while offering enough flexibility for better responsiveness on rougher terrains.
The CR-V Sticks to the Basics
The Honda CR-V, on the other hand, offers average Real-Time AWD capability. This technology is great for average commuters, as the system will automatically determine whether AWD is necessary or not based on road conditions. For example, if it starts to rain hard and roads abruptly become slick, Real-Time AWD will step in. When it's no longer necessary to stay in AWD, this technology switches the vehicle back to standard FWD.
That said, the Honda CR-V doesn't offer anything special for off-road drivers. The Bronco Sport, on the other hand, can push through over 26 inches of water, includes standard tow hooks, and has available all-terrain tires straight from the dealership. Even if you're not a hardcore off-roader, but you like to take weekend camping or fishing adventures, the Bronco Sport is definitely the more capable model.
Safety

Standard Driver-Assist Features
Both models offer a wide selection of standard and available safety features. In fact, Honda is known for creating safe models with modern technologies, so this comes as no surprise. That said, the Bronco Sport actually offers more standard safety features than the Honda CR-V does.
The 2022 Bronco Sport comes with Ford Co-Pilot360, which includes Auto High-Beam Headlights, BLIS Blind Spot Monitoring, Lane-Keeping Assist, Pre-Collision Assist with Automatic Braking, and a Rear View Camera. The Honda CR-V includes standard Honda Sensing. This safety suite includes the following four different safety features: Collision Mitigation Braking, Road Departure Mitigation, Adaptive Cruise Control with Low-Speed Follow, and Lane Keeping Assist.
Available Safety Options
Not only does the Bronco Sport include more standard safety assets, but it also offers far more available safety add-ons. These include an off-roading camera, Breadcrumb Navigation (which shows you where you've already been on the GPS, even if there is no road in sight), and much more. If you want to spend a little extra, you can access features like Evasive Steering Assist and Adaptive Cruise Control with Stop-And-Go and Lane Centering. These work with other standard safety features to aid in accident prevention while making longer drives much less stressful. Overall, while the standard safety equipment is sufficient on both models, the Bronco Sport offers a wider selection of safety perks.
Cargo and Conveniences

Pack for Adventure
Both the 2022 Ford Bronco Sport and the 2022 Honda CR-V are spacious, tech-packed models. These models are designed for maximum cargo and comfort. That said, when it comes to travel and the great outdoors, the Bronco Sport takes the lead once again.
The 2022 Ford Bronco Sport offers everything from a camp table to zipper pockets and a capable 110V/400W power outlet. It offers rear flood lights that make it easier to see outside at night, and it even offers an available tent system that attaches directly to the vehicle itself. In short, drivers can turn a Bronco Sport into a mobile tent that can be set up anywhere, any time. Let's also not forget to mention that this model has a built-in bottle opener. (This is, of course, made for sodas or stationary alcohol consumption. Sip responsively).
Room to Hit the Trails
While the Honda CR-V does offer a bit more interior cargo space than the Bronco Sport, the latter model includes several cargo perks. Thanks to its "Safari-Styled Roof," the Bronco Sport can carry up to 150 pounds up top and offers more space for items, thanks to its flat design. Ford offers several Bronco Sport-Specific cargo add-ons, including enclosed cargo containers and kayak carriers. Even with its standard settings, Bronco Sport owners can haul two bikes on this model's roof without needing to purchase additional add-ons.
The Honda CR-V does not offer a flat, Safari-Style Rooftop. However, you can still purchase exterior cargo add-ons for this model as well, just like with any other SUV. These accessories include cargo baskets, bike racks, and more. Both models include folding rear seats that allow for maximum cargo capacity. Further, both models provide power-adjustable seating and room for up to five passengers. However, keep in mind that since the Bronco Sport is designed for all-terrain driving, its interior is durable and easy to clean, making it more mud and mess-resistant than the CR-V.