Why Sell Your Car to a Dealership?
Let's take a scenario into consideration, shall we? Imagine you're selling your car on your own. Not only are you responsible for marketing that vehicle to the right buyers, but you're also responsible for getting the right price for it, as well as completing the transaction by yourself. There's no one there to guide you; there's no one there to help you. You are entirely on your own, and for many, this is simply too much stress.
When you sell your car to Newton Ford South, all of these worries disappear because you're no longer on your own with the process. Trying to find the right buyer for your car may take quite a while, and you don't get the money you deserve for the vehicle until it's actually sold. At our dealership, you get paid right away, and we offer top value for your vehicle, so you never have to worry about settling on a price. That's another aspect to take into consideration when you sell on your own––negotiating. When you sell your car to us, you won't have to worry about haggling over the selling price.
Selling to a dealership is a much quicker process, with no fees to list the car and market it, as well as not having to worry about potential buyers calling you directly about the vehicle. We will step in and take care of this, so all you need to do is drive it to the lot and collect the money for it. In addition, completing the paperwork associated with the sale is done by our team of experts so that you won't have to worry about whether or not you're going about this correctly. All in all, selling to us makes for a less stressful experience, as well as instant gratification, as you get your money upfront. That is what makes this approach the preferred approach for those looking to sell their car.

What Do You Need to Do Before You Sell Your Car?
Preparing your vehicle to sell is easy when you plan ahead and stay organized. By taking some necessary steps before you head to our dealership, you'll be able to make a great first impression with your car so that you're able to get the most money possible for it. Speaking of money, it's always a good idea to check what your vehicle is worth. You're able to do this with Kelley Blue Book, Edmunds, and other easy-to-use online tools. This will give you a better idea of what your vehicle is realistically worth. However, be advised that the condition of your vehicle, as well as the age, model, and features, will impact the amount that we are able to offer you for it.
You'll also want to take some time to clean up and clean out your vehicle. This means personal items should be removed, trash and other debris should be cleaned out, and the interior and exterior of the vehicle should be cleaned as well. If possible, get dents, chips in the paint, and anything else cosmetic fixed prior to selling your vehicle so that it's looking its best from the moment you arrive on the our lot. Remove bumper stickers and magnets, clean the windshield and all windows, and be sure your car is sparkling because, after all, you only get one chance to make a first impression.
Keeping up with your vehicle's regular maintenance schedule is also advised, so you won't have to worry as much about costly repairs, which could affect the resale value. Preparation is key to ensuring a smooth sale, and when you work with Newton Ford South, you'll be able to enjoy the experience to the fullest with our helpful team and professional environment. By keeping all of this information in mind before you sell your car, you'll set yourself up for the most successful and enjoyable experience possible.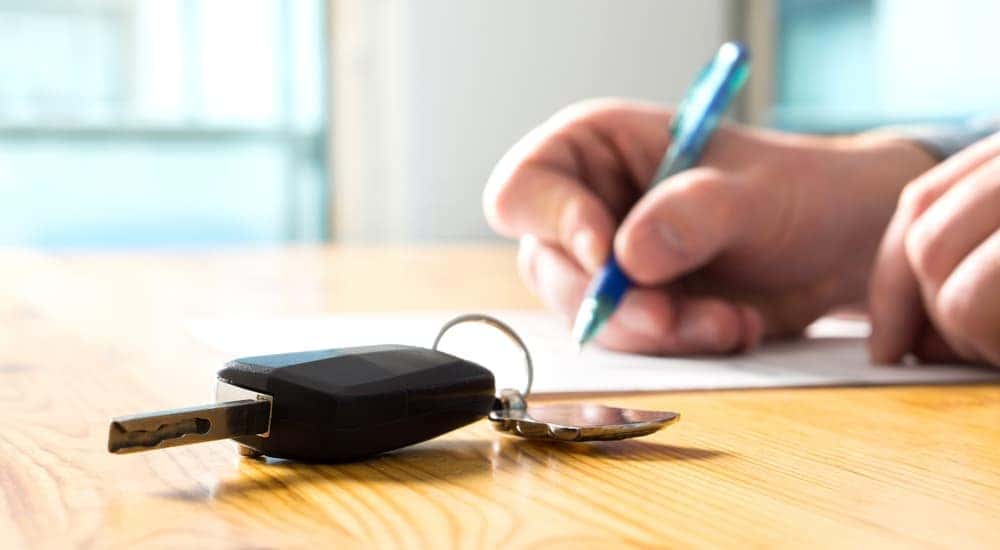 What Paperwork Do You Need?
Another important detail when selling a car is ensuring you have the proper paperwork and documentation needed. After all, we will need to be sure that the vehicle indeed belongs to you, and they'll need the necessary documents in order to sell it to the next lucky owner. The first important document needed to complete the sale is the vehicle's title. Here in Tennessee, a physical title will need to be obtained and presented to us to get the process started. If you still owe money on the vehicle, you'll need to bring documentation showing your lender's information and the remaining amount on the loan.
The paperwork from the original sale is also recommended so that we can know the details of the vehicle, including year, trim level, and more details that could affect the resale value. Although you may be 99% sure of these details, having this paperwork handy will allow you to be 100% sure. Service records are also handy to have, but they're certainly not required. It's also a good idea to know the history of the vehicle, as far as maintenance and repairs, so that we are aware that you've been taking care of your car properly. If you so desire, you could also include a copy of a vehicle history report that you completed for the vehicle; however, any dealership will most likely run their own report.
Gather this important documentation and have it handy when it's time to sell your car. It's also recommended to store this information in a safe place, like the vehicle's glove compartment, so it's available and easy to access. Being prepared, once again, helps tremendously with the process, but rest assured, our team will help you every step of the way, from procuring the proper documentation to getting the most value for your vehicle.