Ford Recall Information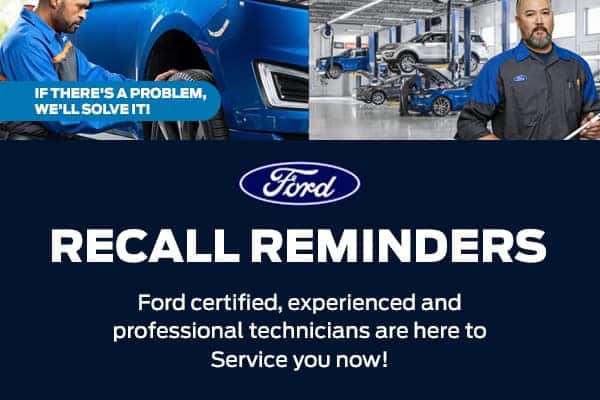 ---
At Newton Ford South, we are committed to ensuring that your vehicle is safe and performing at its best on the roads of Murfreesboro and Tullahoma. While Ford vehicles are rigorously tested before they leave the factory, not all issues are noticeable right away. Sometimes it can be months or even years before a problem will arise. When this happens, a recall is issued.
What happens if there is a recall on your Ford vehicle? When a component poses an unreasonable safety risk, it is the duty of the automaker to repair, refund, or replace the recalled component(s). The team at Newton Ford South is here to help. We can fix the issue correctly and in a timely manner. Learn more below.
How Will I Be Notified if There's a Recall on My Vehicle?
Vehicle manufacturers like Ford work alongside the National Highway Traffic Safety Administration (NHTSA) and are constantly monitoring vehicle safety. If an issue comes to light after a specific make and model has been exposed to real-world driving conditions, a recall will be issued by the manufacturer or the NHTSA. When a Ford recall occurs, Ford will send a notice in the mail.
For added peace of mind, you also have the opportunity to periodically check up on recall information by visiting the NHTSA recall page. Simply enter your VIN, and any vehicle recalls will be listed there.
Taking Care of a Ford Recall with Newton Ford South
If there is a recall on your Ford vehicle, bring it to any Ford-certified service center like Newton Ford South. You do not have to worry about out-of-pocket repair costs to fix a recalled component. The fix will be covered by the manufacturer. Simply make an appointment with us as soon as possible, and we will get your Ford running like new again. The safety of your vehicle is a top priority for our highly-skilled technicians.
Contact Newton Ford South for More Information
If your Ford vehicle is in need of repairs to rectify a recall, don't delay. Make an appointment with our service department near Columbia. You can also contact us for more information if you have any questions.
Mon - Sat

9:00 AM - 7:00 PM




Sun

Closed
Mon - Fri

7:00 AM - 6:00 PM




Sat

8:00 AM - 2:00 PM




Sun

Closed
Mon - Fri

7:00 AM - 5:00 PM




Sat

8:00 AM - 2:00 PM




Sun

Closed