Which Newton Certified Pre-owned Vehicle Is Right for You: The Ford F-150 or Ranger?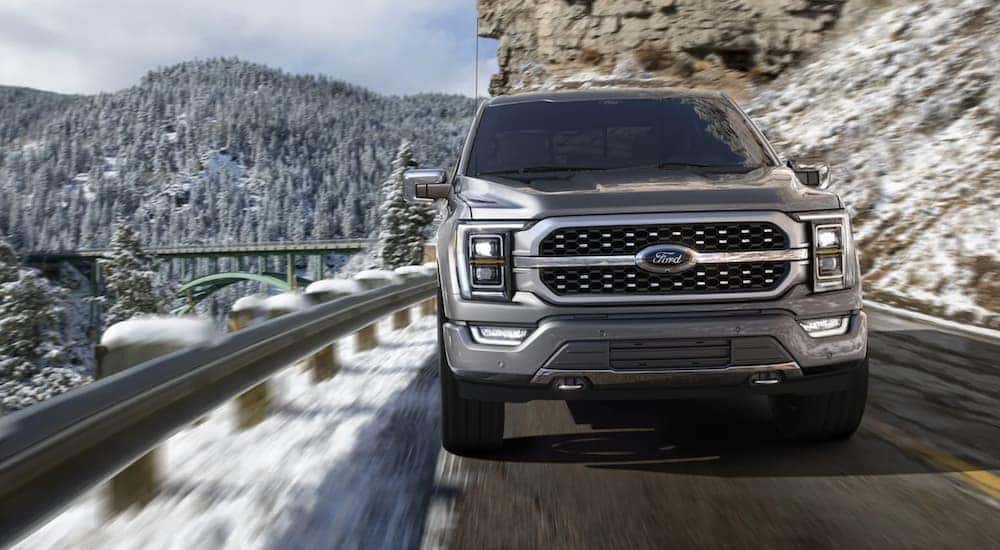 Ford is easily one of the most recognizable names in the automotive industry. It's been over 100 years since Henry Ford's first four-horsepower Quadricycle. With time, Ford has built an impressive lineup of vehicles over the years, most recently a fully electric Ford F-150 and even the snazzy little Mustang Mach-E. The truth is, there are so many fantastic Ford vehicles out there it's hard to narrow it down. That's why getting the inside scoop before checking out your local certified ford truck dealer, such as our team here at Newton Ford South, is a great way to see all your options.
While there are many cars, trucks, and SUVs we could talk about, today we want to discuss two vehicles that take the cake: The Ford Ranger and the Ford F-150. Both Ford trucks have some stellar features, and with the option to go with one of our Newton Certified Pre-Owned (CPO) vehicles, you don't have to break the bank to get a high-quality used truck. So, which truck is the right one? Let's take a closer look.
To Tow or Not to Tow
Deciding between an F-150 or a Ranger depends on your overall needs. So, let's start there. You're looking for a truck, that's why you're here. You can't decide between the power and size of the full-size Ford F-150 or the functionality and handling of the midsize Ford Ranger. One of the biggest draws for many truck owners is the size. If you're looking at trucks, you probably want something large and powerful that will stand up to any job. The Ford F-150 fits the bill. With an assortment of body styles and bed sizes, the F-150 demonstrates a lot of flexibility.
Based on trim level, you could have up to eight feet of truck bed with the Ford F-150. For those trims with the 3.5L EcoBoost V6, that also means towing 13,000 lbs for the more recent models, like the 2019 and 2020 years, or a whopping 14,000 lbs for the newest 2023 model. It doesn't matter if you are looking at a Newton Certified Pre-Owned or brand new F-150; it steps up with its impressive towing and hauling capabilities.
The Ranger, while still impressive, doesn't hold a candle to the F-150's size. The largest bed size offered across the board for the Ranger is the extended bed which is 6 ft. Similarly, the towing capacity is far below that of the F-150, with most models from years like 2018 and 2019 towing up to 7,500 to 8,000 lbs with the additional tow package. So, if power and size matter most to you, the Ford F-150 clearly comes out on top. With its impressive towing abilities and a choice of several bed sizes, the Ford F-150 beats out the Ranger for hauling and towing.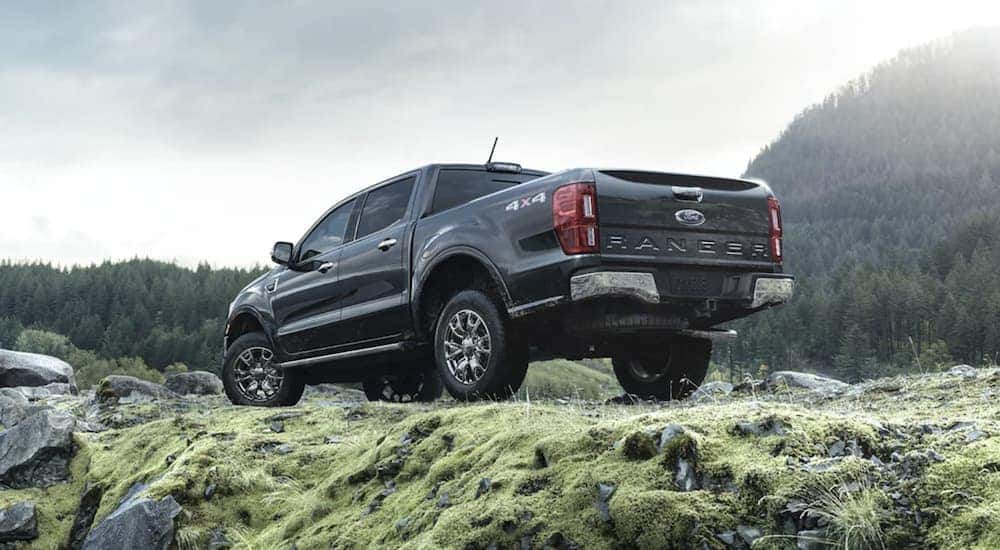 With Great Power Comes Great Responsibility
Once again, the F-150 seems to win the race with its selection of engines and high horsepower. Depending on your trim level and model year, you could work with engines ranging from a 3.3L V6 producing 290 hp or a 5.0L twin-turbo producing 400 hp. Either way, that is a lot of power which means a lot of speed.
The Ranger, unfortunately trailing behind the F-150, tops out at about 270 hp courtesy of a turbocharged 2.3L engine. Even newer models don't seem to match the output of the F-150. However, that's not to say that the power provided by the Ranger's turbocharged engine isn't perfect for the smaller, more compact midsize truck. After all, if a smaller and more efficient truck is what you're looking for, then excessive horsepower and speed wouldn't make much sense.
Even though the Ranger has a perfect engine for its size, we must contend that the Ford F-150 once again places gold, this time in the category of power. These impressive vehicles come with powerful engines, whether the V6, V8, or twin-turbo under the hood. The F-150 has even expanded to include a hybrid option and a fully electric one as well.
Winning by a Hair
Studies show that more Americans are concerned about climate change than ever before. This is clear as more and more vehicle manufacturers focus on producing energy-efficient vehicles. There are far more hybrid or fully electric models than ever before, and even traditional vehicles have seen changes over the years to make them more efficient.
As previously mentioned, the F-150 recently gained hybrid and fully electric alternatives. Even traditional vehicles have seen a change, like the F-150, which has seen a small bump in fuel economy over the years. The Ford F-150 gets about 17 MPG in the city and about 23 MPG on the highway if you're looking at recent model years. Now here is where the Ford Ranger begins to shine. As a midsize truck, the Ranger is lighter and more compact. Thanks to this, the last five model years see the Ranger get about 21 MPG in the city and 26 MPG on the highway.
So, The Ford Ranger finally gets its first win. On average, the Ranger is about 500 to 1000 lbs lighter than its big brother, the F-150, which helps its fuel economy. However, the F-150 does appear to be closing the gap with its newer models. Plus, with the added benefit of the turbocharged engine, the Ranger takes home the win on fuel economy.
To Go Where No One Has Gone Before
This is where it gets interesting. If we had discussed the Ranger vs. the F-150 five years ago, we would have said that the Ranger is better for off-roading. Off-roading is one of the best advantages of vehicles like these. The Ranger is lightweight and has better handling in nontraditional environments than the F-150 because of its size, as well as a tighter turn radius. The Ranger also has a Terrain Management System to help you navigate everything from snow to sand.
Five years ago, the F-150 was heavy and clunky and didn't do well over rocky terrain. Its suspension wasn't meant to absorb the blows from off-road terrain. The Ranger has skid plates and other protection to keep it running as long as possible, while the F-150 focused more on hauling and towing. Now, however, the Ford F-150 comes with new trims and functions that improve off-roading. The newer F-150s have upgraded suspension, all-terrain tires, Trail Control, and more. It's clear that Ford is upgrading its all-terrain defenses. Although the Ranger hasn't seen any real off-road upgrades, it already had many of those features, to begin with. So, who do we call the winner in this one?
Though this feels like a tie, we believe the Ranger is the winner. Although the F-150 has received some increased off-roading performance upgrades, it also received an increased price tag. This means you could go with a Newton Certified Pre-Owned Ford Ranger at a lower price and get what you need for off-roading or go for the pricier and newer F-150 with similar features.
But Wait, There's More
Obviously, safety and comfort are important as well. Ford goes above and beyond on all their vehicles to provide an abundance of safety features. Both vehicles offer similar driver assist features depending on trim level. However, comparing models over several years, the Ford F-150 has received a consistent 5-star safety rating from the National Highway Traffic Safety Administration, whereas the Ranger has received a 4-star rating. In terms of comfort, we give victory to the F-150 as well. While both models are designed with comfort in mind, the F-150 goes above and beyond with extras to take it over the top. The F-150 has an optional onboard generator, fold-flat seats, upgraded interior trim, and more.
The Fairest of Them All
While Ford offers a lot of great features and benefits with all of their pre-owned vehicles, here at Newton Ford South, we also offer our own set of warranties and benefits when you purchase one of our Newton Certified Pre-Owned models. We believe in what we sell, and that's why all our Newton CPO vehicles are not only re-conditioned to make them like new, but they also go through our own rigorous 170-point inspection and come with the following:
7-year/100,000-mile Limited Warranty
SiriusXM Satellite Radio 3-month trial
Optional Extended Protection Plan
CARFAX Vehicle History Report
Whichever model you choose, a Newton CPO takes the win. Not only do you get a fantastic vehicle, but you also get it for a great price with a promise from us. It's difficult to name our winner with two such fantastic trucks. Purchasing a CPO Ford Ranger means purchasing a safe, reliable midsize truck that will be able to take you places in style. Affordable, made to last, and great for off-roading, the Ford Ranger won't disappoint. On the other hand, the Ford F-150 is top of its class, offering more hauling and towing capabilities and superior safety ratings than the Ranger. In the end, both Ford trucks have a lot to offer, so the question is, which one will you be behind the wheel of?