There is a Storm Coming: The Ford Maverick Forecasted to Change the Truck Market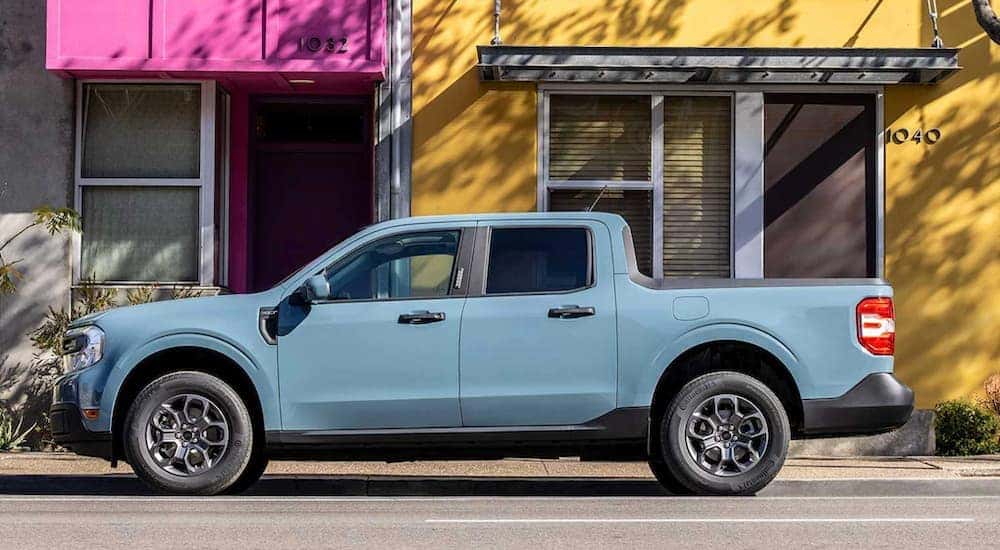 The truck industry should prepare for a makeover. A blast from the past is here and modernized. Here at your Tullahoma Ford dealership, we cannot wait to introduce you to America's first-ever pickup truck that comes standard as a full hybrid. With electric and hybrid models growing in population, we can only expect this all-new compact pickup truck, the Ford Maverick, to soon set a new standard for its class.
A Name with Many Faces
The nameplate Ford Maverick may sound familiar to you, and this is because the name has been applied to models previously. The original Ford Maverick was a compact car released in the 1970s. While less well-known, the Maverick name was also applied to a rebadged Nissan Patrol sold by Ford Australia in the late 1980s through the early 1990s. The Nissan Terrano II, sold by Ford Europe in the 1990s, also used the Maverick name. More recently, from 2001 to 2005, versions of the Ford Escape were known as Mavericks in Europe and China.
Innovating the Truck Scene
As for today, the 2022 Ford Maverick is joining the truck lineup. The Maverick currently only shares a segment with the new 2022 Hyundai Santa Cruz, but previous entries in the compact truck market include the Subaru Baja, Chevy El Camino, Chevy S10, and the old Ford Ranger. The compact pickup selection has declined significantly over the years since the era of those classics due to bigger seeming to be better with pickups. However, more and more people seem to be venturing away from cars and looking for more versatile vehicles like smaller trucks and SUVs. Ford is evolving with this demand by bringing consumers a taste of the past with its modern-day compact pickup.
We expect the 2022 Ford Maverick to take the truck market by storm. Due to the rising demand for versatility and hybrid or electric automobiles, the new Maverick will inevitably set a new trend. The class of compact pickups may be on the verge of being reborn and repopulated with more hybrid options in the future. Or, if we are lucky, the Maverick will continue to be the one and only standard full hybrid compact truck available.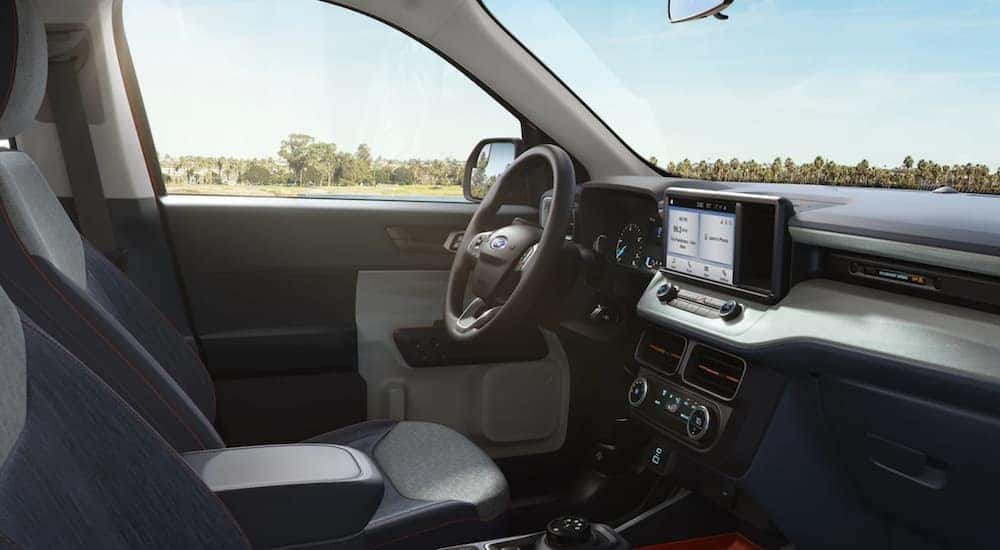 What We Can Expect from the New Maverick
Trucks are a great option when you need to tote around items not necessarily suitable to be placed inside your vehicle. Maybe you need to bring some trash to the dump or pick up some lumber for your next home improvement project; the bed of a pickup is a more desirable option than the trunk of your car or the back of your SUV. Trucks also allow you to have towing capabilities that some SUVs do not offer. Unfortunately, full-size and even midsize trucks can come with a hefty price tag and more towing capabilities and bed space than you need. The 2022 Ford Maverick is the perfect size for commuting with or without passengers, offering just enough bed space for those who want a truck but do not need a workhorse.
Starting at an MSRP of only $19,995, the new Maverick is an affordable option for those branching away from cars or SUVs and looking for light towing and hauling capabilities. This compact pickup can carry a payload of up to 1,500 pounds and tow a maximum of 2,000 to 4,000 pounds, depending on whether you choose the 2.5L hybrid engine or the 2.0L turbocharged gas-powered engine. And, while you are utilizing the bed of your truck for some errands, you can pick up a few people along the way to keep you company since there are seats for up to four more people.
When it comes to interior space for you and your passengers, you can expect everyone to travel in comfort. You and your front passenger can enjoy up to 42.8 inches of legroom. The passengers in the back seat also have ample legroom with their 35.9 to 36.9 inches depending on if you have the hybrid motor or not. Along with the 100.3 cubic feet of passenger volume, the Maverick offers storage under the rear seat as well. The under-seat storage gives you an additional 2.0 or 2.6 cubic feet of interior storage, contingent on which motor your model has.
When it comes to the exterior storage options, the 2022 Maverick has a 4.5-foot bed with a versatile multi-position tailgate. This tailgate allows you to have it in the open, closed, or halfway closed position so you can haul items of all shapes and sizes. Additional side cubby storage is available in the bed on all trims other than the base XL. The Maverick's truck bed also offers two 12-volt pre-wired connections and two available 400-watt 110-volt outlets for powering tools or anything else you have with you.
The Maverick's power comes in more than just electrical outlets or the available bed lighting. When it comes to the powertrain, you get the option to choose between the standard 2.5L hybrid engine or the 2.0L EcoBoost engine with available all-wheel drive. The hybrid engine can put out 191 hp and has a targeted EPA-estimated 40 mpg city and an estimated 500-mile range. The 2.0L EcoBoost turbo engine can put out 250 hp and is rated for a more than acceptable 26 mpg combined.
Why Choose the Maverick
At your Tullahoma Ford dealership, we want you to drive off our lot with a vehicle that suits your lifestyle and personality. Something that can meet all of your expectations today as well as tomorrow is what you need. The versatility of the 2022 Ford Maverick truck fits into a variety of lifestyles and suits many personality types, making it a desirable option. And, with an affordable price tag, there is no reason not to purchase what you deserve.
For those looking for a commuter or passenger vehicle, when you compare the Maverick hybrid model to an SUV like the 2022 Chevrolet Equinox that also carries up to five people, the Equinox comes in just below the Maverick. The Equinox only puts out 170 hp and is not as efficient with fuel either with its estimated 31 mpg city. With a passenger space of 103.50 cubic feet, the back seat passengers get more legroom than the driver and front passenger, which only get 40.90 inches. That is almost two inches less than the Maverick's front legroom.
As a compact truck with light-duty capabilities compared to trucks similar in size, the 2022 Ford Maverick keeps up with the competition. The midsize 2022 Chevrolet Colorado, for example, with its 2.5L engine only puts out 200 hp versus the 250 hp that the 2.0L turbo engine Maverick does. Plus, that model Colorado only gets up to 25 mpg highway, while the EcoBoost Maverick makes 30 mpg highway. The Colorado's 2.5L engine's payload maximum of 1,425 pounds and towing capability of 3,500 pounds are also less than the Maverick. Although it may not offer as many engine options nor a long bed, the 2022 Ford Maverick sure is comparable to a base, more expensive midsize truck option.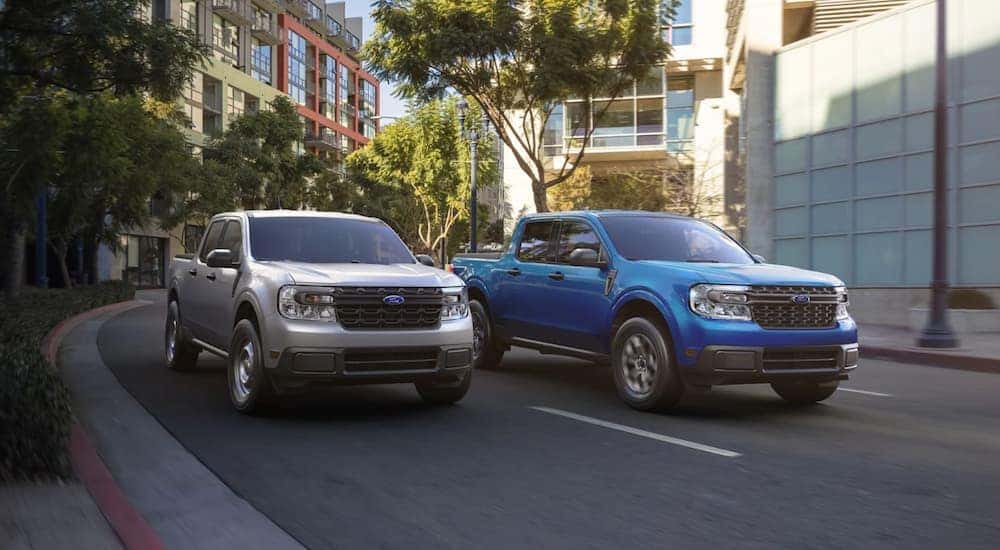 No Need to Shelter Down When You Can Drive the Storm
Hybrid and versatile, the 2022 Ford Maverick is the way of the future. There is no doubt the compact truck market will be changing in the years to come. Fuel efficiency, eco-friendly, and versatile all in one package. When you can have it all, why wouldn't you? With an affordable price tag, there is no reason to shelter yourself from what you want and deserve. It is time for you to pursue your desires and drive the storm.