The 2022 Ford F-150 Lightning Is Faster Than Thunder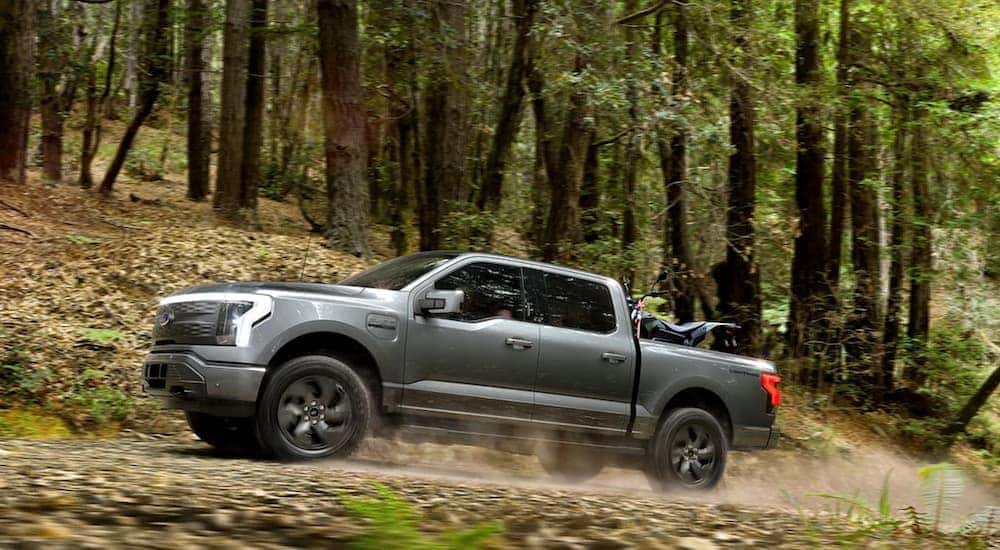 As Detroit great Bob Seger sang, "Felt the lightning; waited on the thunder." Another Detroit great, Ford Motor Company, will soon be bringing the Lightning, an all-new model of the famous Ford F-150 full-size truck. The 2022 Ford Lightning will have something that no other Ford truck has ever had before: an all-electric motor. Actually, there will be two of them, one for each axle. Ford's goal is to make a truck that has all the capabilities and performance of a Ford F-150 with the ecological and fuel economy benefits of an electric vehicle (EV).
When you stop into, Newton Ford South, your Tennessee Ford truck dealer, you will be able to get a jump on the competition, becoming the envy of your friends in your new 2022 Ford F-150 Lightning. At Newton Ford South, we have made a commitment to truck drivers in Tennessee to bring you the best new and used Ford trucks, which are dependable, safe, and family-friendly. Stop in today and let us show you how the F-150 Lightning earns its name with speed, power, and efficiency unheard of in a truck.
An All-Electric Powertrain in a Truck
Ford made a commitment to a future of EVs that pair solid performance with zero emissions. Bill Ford, the executive chair of Ford Motor Company, remarked that the "F-150 Lightning represents a defining moment as we progress toward a zero-emissions, digitally connected future." The challenge was to come up with an EV pickup truck worthy of the F-150 name.
Ford decided to start from the ground up, locating the dual motors and the powerful lithium-ion battery in the truck's undercarriage. This not only frees up space in the passenger cab but also gives the F-150 Lightning a frunk – 14.1 cubic feet of space in the area that used to be the engine bay. This is in addition to 52.8 cubic feet of space in the F-150 Lightning's 5'5″ payload bed.
There is another advantage of placing the entire powertrain in the truck's undercarriage. Ford has designed an exoskeleton to shield the battery so that you can take your F-150 Lightning off-road without fear of damaging anything vital on your truck. The protective shell also contains waterproofing to protect the battery from any possible damage when crossing over streams. As Linda Zhang, the chief engineer of the F-150 Lightning makes clear, "This all-electric truck has been engineered with dual in-board motors, which means it can take on rough terrain. Our team of engineers has run the same arduous test regimen our F-150 customers have learned to expect from Ford."
The powertrain itself consists of a pair of powerful electric motors powered by the lithium-ion battery. One set of motors powers the front wheels, the other moves the rear wheels, giving the F-150 Lightning true 4×4 capability. Ford offers two different powertrains on the Lightning. The Standard Range version produces 426 horsepower and generates 775 pounds to feet of torque. The Extended Range version also generates 775 pounds to feet of torque but produces 563 horsepower. These numbers exceed the horsepower and torque on any Ford F-150 model powered by gas or turbo-diesel engines.
This electric F-150 truly is as fast as Lightning. Early reports indicate that the 2022 Ford F-150 Lightning can go from 0 to 60 miles per hour in only 4.5 seconds. That is the kind of acceleration you'd expect from a muscle car, not an EV, and especially not a full-size truck. This is the result of the almost instant generation of torque by the electric motors at zero RPMs, something a conventional engine cannot do until it gets up to speed.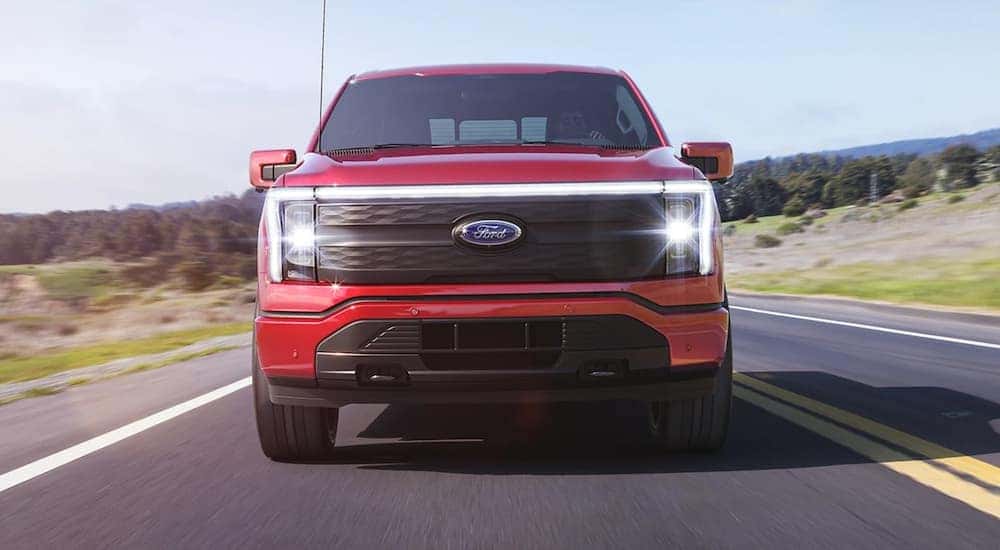 Lightning Power for Trailers and Payload
Kumar Galhotra, the president of Ford's Americas and International Markets Group, notes that the "F-150 Lightning delivers everything we've said electric vehicles can offer, plus the capability expected from a Built Ford Tough truck – not just near-instant torque but powerful towing and hauling customers can depend on." Mr. Galhotra is pointing to the fact that the 2022 Ford F-150 Lightning has enough power and torque to do the jobs you need to get done.
The model with the Standard Range powertrain can tow up to 7,700 pounds and carry 2,000 pounds of cargo. This is comparable to a Ford F-150 with the 3.3-liter V6 engine. The F-150 Lightning with the Extended Range powertrain goes even further, giving you the ability to tow up to 10,000 pounds of trailer and carry up to 1,800 pounds in the truck's bed. This is not just a vanity vehicle for a weekend warrior but an actual truck designed for the working driver.
Charged up and Ready to Go!
Every model of the 2022 F-150 Lightning comes with a standard 32-amp Ford Mobile Charger. This will allow you to charge using Level One (120V) or Level Two (240V) outlets. If you opt for the Extended Range powertrain, you will get a free 80-amp Ford Charge Station Pro, which utilizes the battery's dual onboard chargers to get a peak charging power of 19.2 kW for overnight charging.
When you are out on the road, you can access Ford's network of public charging stations, the largest in North America. Simply open the FordPass Power My Trip app on your F-150 Lightning's 15.5″ touchscreen to plan out your trip. It will consider such factors as current charging level and battery range to plot Ford charging stations right into your route.
There is another hidden benefit of owning a Ford F-150 Lightning. If you get the 80-amp Ford Charge Station Pro with your truck, you can turn your truck into a self-propelled backup generator. When your F-150 Lightning is hooked into the Charge Station Pro and your home has a power outage, Ford Intelligent Backup Power will kick in. This will transfer up to 9.6 kilowatts of power from the truck's lithium-ion battery to your home electrical system like a standby generator. Once the power is restored, the system will go back to charging the truck's lithium-ion battery. This is something that no other pickup truck on the road currently offers and gives you peace of mind in an emergency.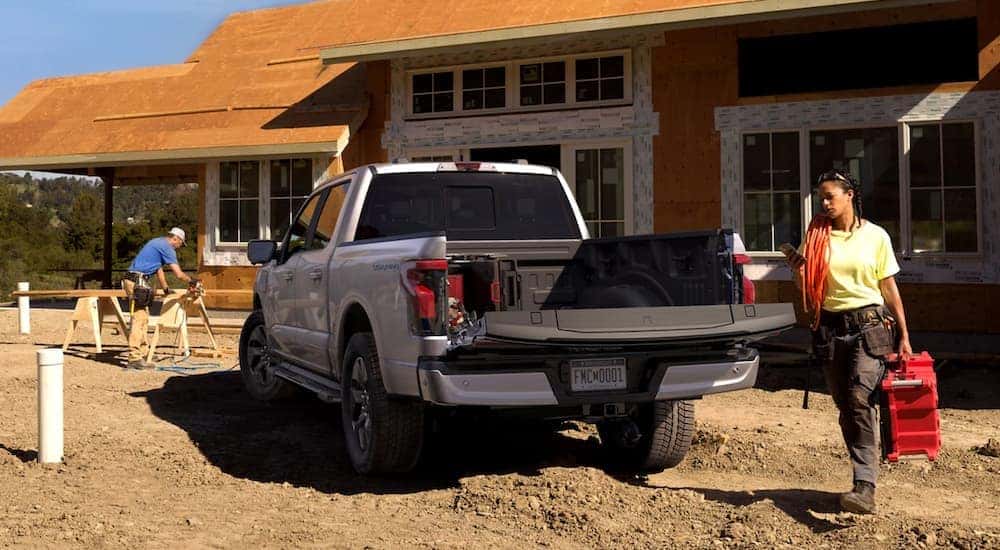 Take a BlueCruise in your F-150 Lightning
Ford is committed to the cause of vehicle safety, and it offers the 2022 F-150 Lightning with a set of standard and available Ford Co-Pilot360 safety and driver-assist technologies. One of the most interesting is the available BlueCruise feature. This provides you with the ability to drive the F-150 Lightning hands-free on compatible roads in the United States and Canada. These precision-mapped, divided highways are referred to as Hands-Free Blue Zones, and there are currently over 100,000 miles of them for you to explore.
BlueCruise includes a driver-facing camera, which coordinates with the radar technologies in the Co-Pilot360 system. While you should always pay attention and be prepared to take control of your truck even in the BlueCruise mode, this feature will allow you to reduce driver fatigue and improve safety and efficiency by allowing the technology in your F-150 Lightning to guide you through the Blue Zone roads.
Ford Future Is Electric!
The F-150 Lightning is the future of Ford trucks. This full-size pickup can really do it all safely, efficiently, powerfully, and quickly. Ford has developed the first EV truck that can do anything a conventionally powered truck can do, just better and with zero emissions. While Bob Seger may be waiting on the thunder, the Lightning is here and ready to roll.