Ford Hybrids Power the Future
Ford has long been a leader in hybrid vehicles, and the new Mustang Mach-E and Ford F-150 Lighting are extending that leadership into electric vehicles as well. You can be a part of this by stopping by your Shelbyville used Ford dealership to make your next vehicle a new or used Ford hybrid. Starting with the Fusion Hybrid in 2008, Ford has been working on expanding its offering of hybrid cars, trucks, and SUVs, with hybrid versions of the Explorer and Escape SUVs currently on offer.
The all-new 2021 F-150 Hybrid is one of the first full-size trucks offered by a major automaker that provides you with an alternative energy powertrain while not skimping on the capability and versatility you need in your pickup truck. Stop by Newton Ford South today and let us show you why the future is now with Ford hybrids. We proudly serve drivers in Shelbyville, offering you a great selection of new, used, and certified pre-owned Ford cars, trucks, and SUVs.
A Perfect Fusion of Gas and Electricity
Ford introduced the Fusion Hybrid in time for the 2010 model year, and it was an immediate hit. The Fusion came in either a standard hybrid or a plug-in hybrid known as the Fusion Energi. The final 2020 Fusion Hybrid used a 2.0-liter Atkinson-cycle I-4 gas engine paired with an 88 kW electric motor to power it to some incredible fuel efficiency numbers. This is shown by Fusion Hybrid's EPA estimated 43 miles per gallon in city driving, 41 miles per gallon in highway driving, and a combined 42 miles per gallon.
Ford used the Fusion Hybrid to develop technological expertise that is unrivaled in the automotive industry. First, the Fusion Hybrid uses regenerative braking to recharge its battery. This means that the kinetic energy normally lost when you apply the brakes is recaptured by the Fusion Hybrid's system and transferred back to the battery, recharging it while you drive. In this way, up to 90% of normally wasted energy is used to power your vehicle.
A second technological feature is the Brake Coach Display on your Ford Fusion Hybrid. When you bring your Fusion Hybrid to a stop, Brake Coach will appear on your dashboard instructing you on how to most efficiently apply the brakes so that the system can recapture as much kinetic energy as possible. You can literally see the battery being recharged right before your eyes.
A third example of Ford's technology is the optimized driving on the Fusion Hybrid. This allows the hybrid system to seamlessly switch between all-electric and hybrid gas-electric operation while you drive. The system seamlessly adjusts to optimize hybrid usage based on driving conditions.
Plug-In Energi
While the Fusion Hybrid uses the gas engine and regenerative braking to recharge the battery, the Fusion Energi plug-in hybrid adds the convenience of plugging in your car to recharge the battery when not in use. As a result, the 2020 Fusion Energi gets an EPA-estimated 103 MPGe, and an electric-only range of 26 miles before the gasoline engine needs to kick in.
The Fusion Energi uses the same 2.0-liter iVCT Atkinson-cycle I-4 gas engine and 88kW electric motor as the Fusion Hybrid. However, it has a larger 9-kWh lithium-ion battery since the electric motor will provide more of the Fusion Plug-In Hybrid's propulsion. As a result, this hybrid has a larger EPA estimated range of 610 miles instead of the 588-mile range of the standard hybrid.
The plug-in feature of the Fusion Energi makes recharging easy and convenient, with a charge port located on the fender, ready to take a standard 120V cable. There is also an available 240V home charging option, which can reduce recharging time for your 2020 Ford Fusion Energi. This plug-in hybrid can also be charged at public charging stations when you are on the go. In addition, this vehicle offers regenerative braking like the 2020 Ford Fusion Hybrid.
While Ford discontinued the Ford Fusion Energi and Ford Fusion Hybrid after the 2020 model year, there are still plenty of these great Ford Hybrids available on the used market. This will give you the added benefit of getting a safe, environmentally friendly, and fuel-efficient sedan at a very affordable price.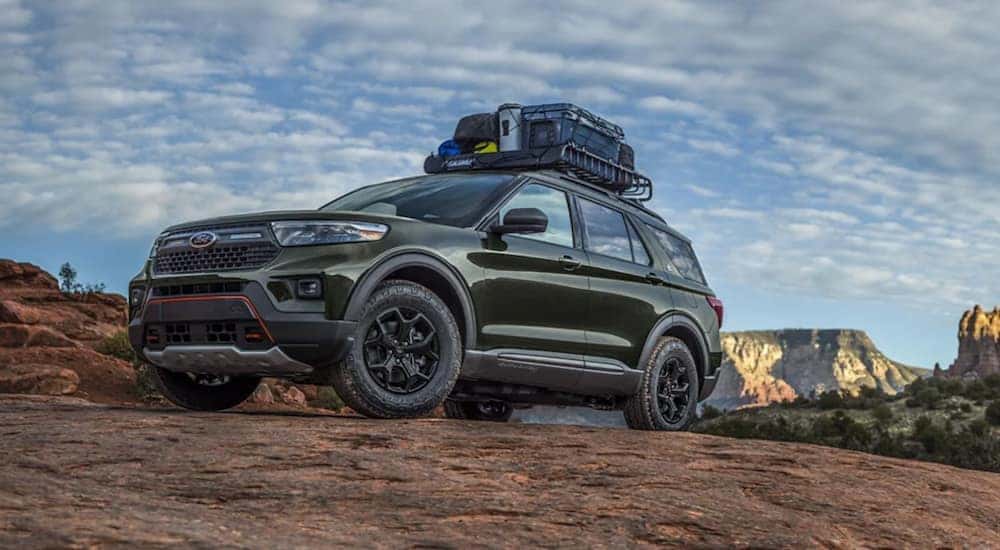 Two Great Ford Hybrid SUVs
Ford took what it learned from the production and development of the Fusion Hybrid and applied it to other vehicle classes. The most successful to date is the SUV, where Ford now offers a hybrid engine option on the Escape and Explorer.
The Escape Hybrid actually predated the Fusion Hybrid by a few years, making its debut in 2005. This made the Escape Hybrid not just the first hybrid SUV but also the first hybrid manufactured in the United States. As such, it was developed alongside the Fusion Hybrid, with now two different variants available, the Escape Hybrid and the Escape Plug-In Hybrid. Just like the Ford Fusion Hybrid, the two Escape hybrid models feature the latest Ford technology. This includes regenerative braking, brake coach display, and optimized driving.
The 2021 Escape Hybrid runs on a 2.5-liter I-4 Atkinson-cycle gas engine with an 88-kWh electric motor. The transmission on this model is an electronically controlled continuously variable transmission (eCVT) for greater efficiency. It also seamlessly shifts between electric and hybrid powertrain performance. As a result, the 2021 Escape Hybrid can get an EPA estimated 44 miles per gallon in the city and 37 miles per gallon on the highway. To maximize passenger and cargo space, the engineers at Ford have placed the Escape Hybrid's 1.1-kWh liquid-cooled lithium-ion battery under the rear seats.
The 2021 Ford Escape Plug-In Hybrid makes recharging simple with an easy-to-access charging port in the vehicle's left front fender. Using a 120-volt Level 1 charger will take about 10 hours to recharge the Escape Plug-In Hybrid's battery. If you opt for the available 240-volt Level 2 charger, you can cut charging time down to about three and a half hours. The 2021 Escape Plug-In Hybrid can also be recharged at public chargers, allowing you to take this great Ford Hybrid out for a fun road trip.
In 2020, Ford introduced its second hybrid SUV, the Explorer Hybrid. The 2021 Ford Explorer Hybrid uses a 3.3-liter V6 gas engine with an electric motor to produce 318 horsepower and 322 pound-feet of torque. This is enough power to allow the Explorer Hybrid to be able to tow up to 5,600 pounds while getting 27 miles per gallon in the city and 28 miles per gallon on the highway with standard rear-wheel drive. If you opt for the Intelligent 4-wheel drive on your Explorer Hybrid, fuel economy will drop slightly to 23 miles per gallon in the city and 26 miles per gallon on the highway. No matter which drivetrain you choose, the 2021 Ford Explorer Limited Hybrid will give you great performance with exceptional fuel economy in a roomy and luxurious package.
Hybrid Trucking
Ford turned plenty of heads when it announced that it was going to offer its flagship F-150 pickup truck with a hybrid engine option. Premiering in time for the 2021 model year redesign, the F-150 Hybrid is the first truck in its class to offer the benefits of a hybrid powertrain. This truck features a 3.5-liter PowerBoost turbocharged V6 engine with electric motors, giving you the best of both gas and electricity.
The combination provides 430 horsepower and 570 pound-feet of torque, helping the 2021 F-150 Hybrid tow up to 12,700 pounds and carry up to 2,120 pounds of payload. What's more, this truck gets an incredible EPA estimated 25 miles per gallon in the city and 26 miles per gallon on the highway. The 2021 Ford F-150 hybrid has an EPA estimated range of 700 miles on a single tank of gas and is available across the trim lineup, making it an excellent choice for almost any pickup driver.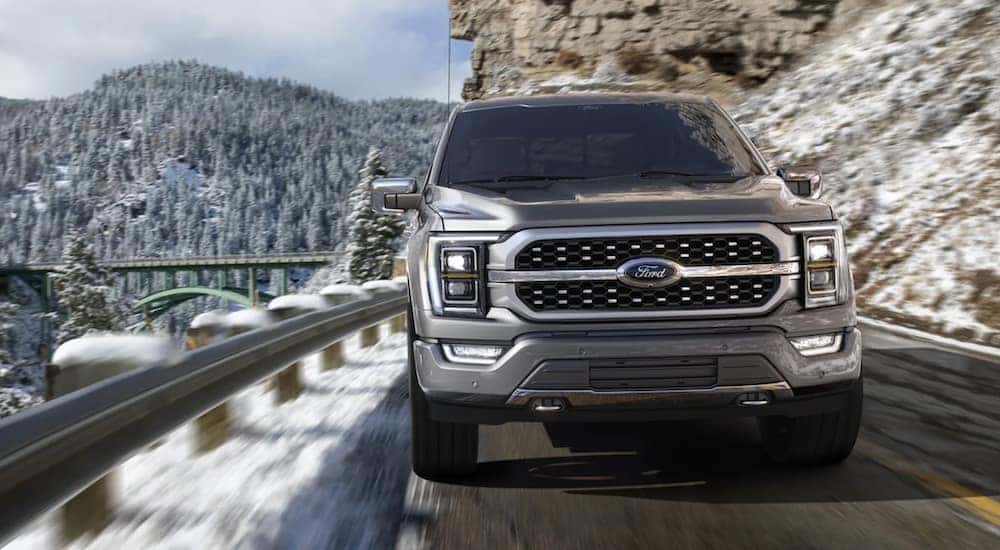 At Ford, the Future Is Electric
Ford has put its plans into action, making sure that the future is green and clean for the environment while continuing to provide you with powerful and exciting vehicles. Whether you buy a new, used, or certified pre-owned vehicle, Ford has your hybrid needs covered with its lineup of popular hybrid and plug-in hybrid vehicles, including cars, SUVs, and even full-size trucks.