Automatic Parking, Surround Views, and More: The Latest Ford Tech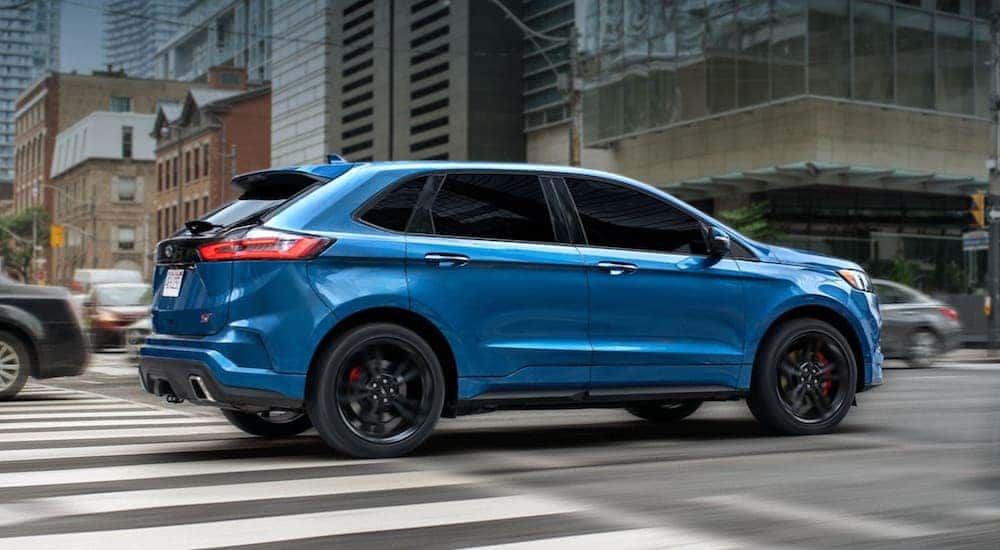 Ford has consistently led the pack when it comes to delivering great vehicles at great prices. They deliver high-performance cars, trucks, and SUVs that are also well-equipped with the latest technology, offering more than even some luxury car brands do. Ford has introduced some amazing new technology across their entire lineup. There are two ways to learn more about every innovative feature: first, you can read more below; then visit us, your local Ford dealership in Shelbyville. Take a seat in the cockpit and test out this new tech for yourself.
So what can you expect from the latest Ford lineup? Ford is making its comfort and convenience features more advanced than ever, updating safety technology for better peace of mind while you drive, and offering a more luxurious experience that competes with the most expensive cars in the world. Here are the features you'll love to try out soon.
Performance Technology
Better performance technology this year makes Ford vehicles even more fun to drive than ever. Most of these features are designed to take the busy work of driving off your hands while delivering more responsive, powerful drives. It starts with the Intelligent 4-Wheel Drive system, which does more than the average 4WD system. On top of great traction control, Ford's latest, most intelligent 4WD yet collects data about your driving conditions several times per second, then adjusts the drivetrain to offer better balance, weight, and grip at all times. You'll maintain control on unsteady roads or even off-road.
Pair Intelligent 4WD with the Terrain Management System for stability in the toughest conditions. This system features several G.O.A.T. (goes on any terrain) modes, so you can adjust your vehicle for slippery, sandy, or even rock crawl driving. Terrain Management adjusts in real-time, interacting with your wheels and engine to optimize your vehicle's performance for what's underneath the vehicle.
There's even more Ford technology to enhance your drive. H.O.S.S. (high-performance off-road stability suspension) keeps your vehicle even-keeled and steady as you take on tough terrain. No more wobbling in your seat as your vehicle dips into potholes or climbs over rocks; H.O.S.S. keeps the cabin as stable as possible while protecting the vehicle frame in all conditions.
Cruise control is more responsive than ever, too, intelligently sensing changes in road elevation and adjusting its settings automatically. Hill Descent Control bridges the gap between Ford's adaptive cruise control, traction control, and anti-lock brakes to maintain stability and consistent speeds while driving down the sharpest hills––even when you're towing a trailer.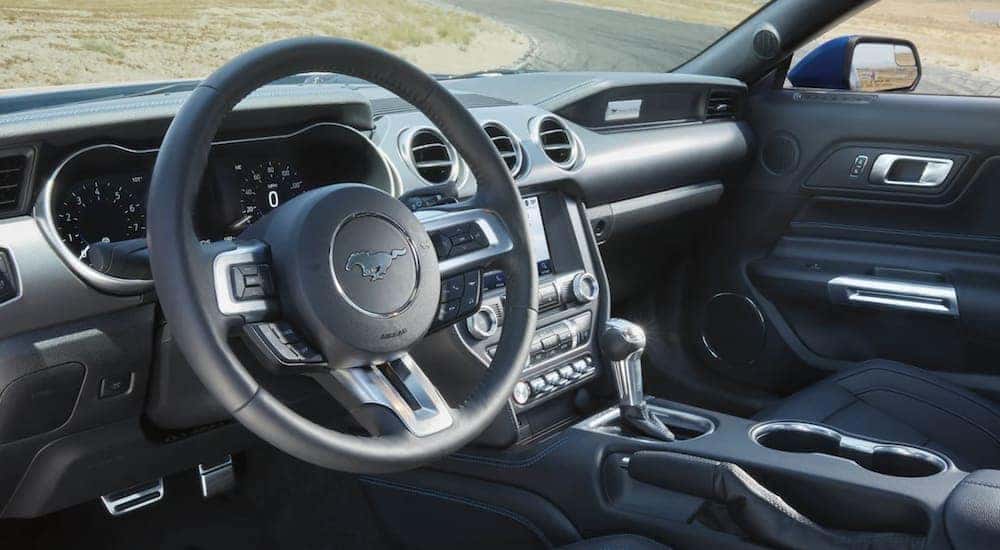 Safety Technology
Ford is also delivering more safety technology than ever. Let the new 360° Camera with Split-View technology be your eyes on all sides of your vehicle. This camera system provides an unbelievable birds-eye view of your truck and any trailer you're towing. Enable Split view to keep your eye on two perspectives at once, including truck bed and side views, for total peace of mind while you drive.
This is all part of Ford Co-Pilot360, the most advanced suite of active safety features available from any auto brand. This year, Co-Pilot is smarter than ever, with additional features like Active Park Assist 2.0; with the press of a button, your Ford can park itself, even in tight parallel or perpendicular spots. This feature is a must-have for crowded city driving.
Pro Trailer Backup Assist with Trailer Reverse Guidance makes Ford trucks even better than the competition. Like Park Assist, this feature helps monitor your surroundings to get you into (or out of) tight spots while also helping to guide your trailer exactly where you need it to go. BLIS with Trailer Coverage, meanwhile, monitors your blind spot so you can easily change lanes, even when you're towing a large trailer. Take the stress out of towing and utilize the BLIS system to watch the sides of your vehicle and trailer.
Convenience Technology
Think of your new Ford vehicle as an assistant on the go, an intelligent machine designed to do more for you and respond to your needs quickly. For drivers who carry plenty of cargo in their truck beds, you get power tailgate technology, which allows you to unlock or even open your tailgate with your key fob. The tailgate is engineered to open carefully, not slam down, and is a great feature for loading and unloading cargo.
Pro Power Onboard turns any Ford pickup into a mobile generator with various kW offerings, so you have enough power for the job at hand. There are multiple outlets that are compatible with various electronic devices so you can turn your truck bed into a workbench, connect your power tools, and get to work. Or set up lights for overnight jobs. Pro Power Onboard can even support stereos and other electronics, making Ford pickups the perfect tailgate venue.
Meanwhile, MyKey allows you to control your vehicle's settings even when you're not behind the wheel. This available assistance feature allows you to adjust settings and optimize features for good driving habits. For example, you can limit your Ford's top speed when a teenager is driving or set up mandatory seatbelt settings. Your Ford dealer can explain how to use your key fob to set up, program, and use administrative features in any new Ford vehicle.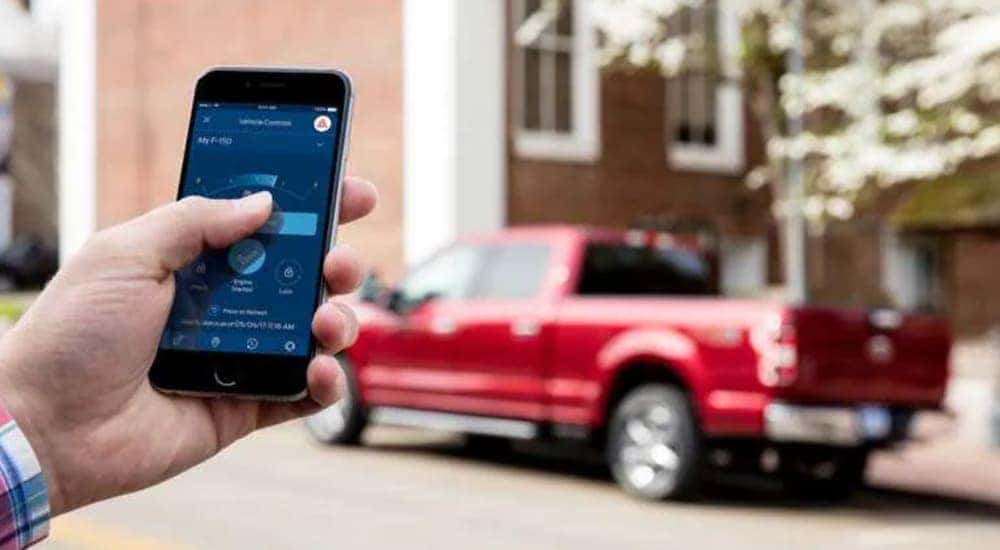 Entertainment Technology
Driving a Ford is now more entertaining than ever thanks to the latest infotainment technology with SYNC 3 or SYNC 4, depending on the model and trim you select. Each provides your gateway to smartphone connectivity, viewing your contacts, driver settings, music, and other audio apps like Apple Podcasts and Audiobooks. SYNC 4 represents the latest premium infotainment interface, with crisper visuals, even faster processing speeds and a more intuitive interface that's more user-friendly than ever. SYNC 4 is optimized for larger screens, like the 12-inch infotainment screen available in some new Ford vehicles.
Both SYNC 3 and 4 offer available real-time navigation, including voice instructions so you can keep your eyes on the road. Unlike some navigation apps, though, Ford's latest tech isn't just limited to marked roads. Enable the Breadcrumbs feature when exploring the open trail and blazing your own path. Your vehicle will set virtual pins as you progress, tracking your location in real time. When you're ready to go back to your starting point, like the road you turned off from, the Breadcrumbs feature will provide detailed instructions to get you back.
Learn More at Newton Ford South
There's so much amazing tech to love from Ford––now more than ever. This American auto brand proves that they're not just about towing power or performance driving but comfort, safety, and driving enhancement features that approach luxury level. Who needs overpriced, imported luxury cars when Ford offers a supreme driving experience for the lifetime of ownership––all at a fraction of the price.
If you're ready to test these amazing features for yourself, visit Newton Ford South, Middle Tennessee's destination for the latest Ford vehicles. Our inventory includes the best Ford cars, trucks, SUVs, and vans in their lineup at the best prices around. Come check out the always-popular Ford Explorer, the redesigned Bronco Sport, the high-performance Mustang, or the powerful F-series trucks. There's even more to love when you shop at Newton Ford South.