An All-New Bronco for the Roads and Trails of Tennessee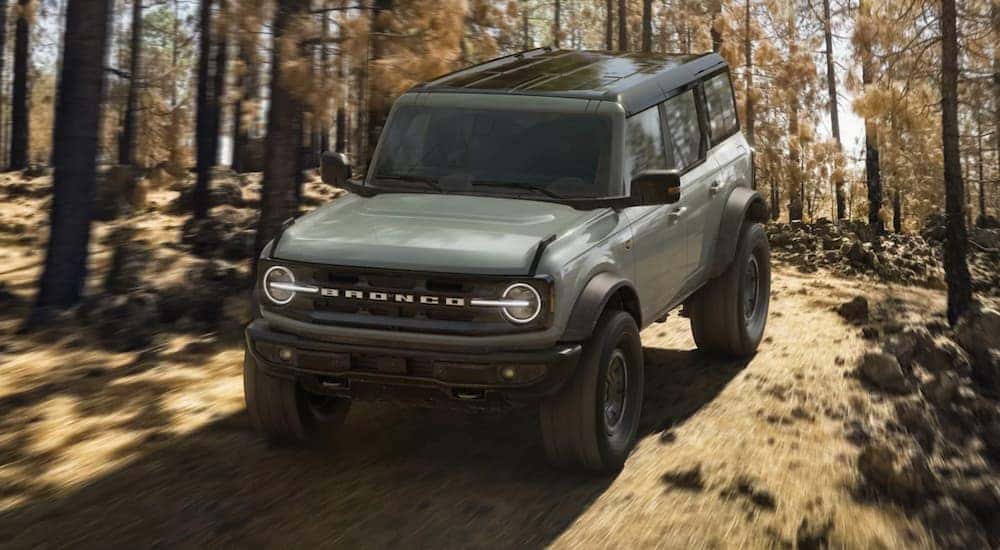 Tennessee drivers are some of the most discriminating in the States, desiring a vehicle that can provide great performance on the road during the week while still allowing them to cut loose on the weekends for some serious off-roading. That's because Tennessee features some of the most fun and challenging off-road trails, with a great mix of forests to explore, hills to conquer, and rivers to ford. Fortunately, you can find exactly what you are looking for right here at your local Tennessee Ford dealer. The Ford lineup is filled with great options such as the Raptor and Tremor pickup trucks.
But there is no other vehicle available today quite like the all-new 2021 Ford Bronco, especially if you want something built to handle off-roading straight from the factory. That's because Ford has designed the Bronco with off-roading in mind. This isn't just another SUV with all-wheel drive and an available off-road package. The 2021 Bronco is an off-road vehicle built from the ground up with all the features you need right out of the gate, including standard four-wheel drive. If you want to see what this SUV is all about, stop by Newton Ford South. We feature all of your favorite Ford models, including the Ford Bronco, and our friendly staff will help you get behind the wheel of one of these off-road beasts so you can start making your Tennessee weekends more adventurous.
A True Off-Road Vehicle Starts From the Bottom
Ford knew what it was doing when it designed the Bronco. The key to off-roading starts with the wheels, tires, and drivetrain. If you don't have large enough wheels and tires, you are going to have serious trouble getting up and over obstacles out on the trail. With the Bronco, that will not be a problem.
The Base trim features 16-inch steel wheels fitted with 30-inch all-season tires. These increase in size and scope as you go up the trim line. For example, the Big Bend trim features 17-inch aluminum wheels, while the Black Diamond has 17-inch steel wheels, but both trims are equipped with 32-inch all-season tires. The Outer Banks trim also has 32-inch all-season tires but on 18-inch machined aluminum wheels. The Badlands has 17-inch alloy wheels fitted with 33-inch all-terrain tires. The Wildtrak and First Edition both ride on 17-inch beadlock capable wheels with 35-inch mud-terrain tires.
However, unlike competing off-road models, every single trim of the Bronco can be optioned with the 17-inch wheels and 35-inch mud-terrain tires of the Wildtrak by springing for the Sasquatch Package. Another name for Sasquatch is Big Foot, so it makes sense that the Sasquatch would provide your Bronco with bigger shoes on its larger feet. What this all means for you is that you can have oversized wheels and tires providing great traction that will be sure to come in handy when you are on some of the toughest trails.
The attention to the Bronco's undercarriage carries over to the drivetrain. This isn't some retrofitted all-wheel drive that's fine for getting you around the suburbs when it rains or snows. Out on the trail, you need real four-wheel drive with a transfer case delivering varying degrees of torque to each of your Bronco's four wheels. The Bronco's 4X4 system has part-time selectable engagement, with a choice of G.O.A.T. modes through its terrain management system.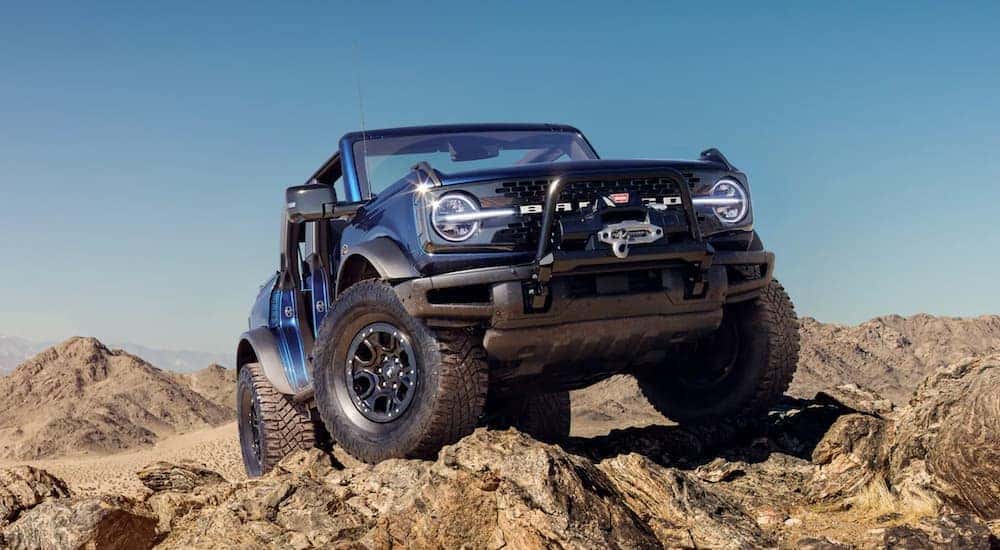 The G.O.A.T. modes include normal, eco, sport, slippery, and sand on the Base trim and expand to include mud/ruts, rock crawl, and Baja on higher trims of the Bronco. The Badlands, WildTrak, and First Edition take a step farther with advanced 4X4 automatic on-demand engagement, so the system can provide extra traction on the fly when it senses wheel slip. Officially, G.O.A.T. stands for "goes over any type of terrain," but we tend to think it really means "greatest of all time."
Protecting the undercarriage is also vital when you are off-roading. That's why Ford has added standard heavy-duty steel bash plates to the Black Diamond, Badlands, and First Edition trims, with similar bash plates available on the other trims. Ford has also equipped the Bronco with standard recovery hooks, two in the front and one in the back.
Finally, Ford designed the Bronco's suspension system to stand up to the rigors of the trail. The standard HOSS suspension system is built to handle off-roading. HOSS stands for high-performance off-road stability suspension, and you can tell the difference when you are on some of the toughest trails. Bilstein position-sensitive dampers come standard on the Badlands, Wildtrak, and First Edition models and are available as part of the Sasquatch Package on other trims. Completing the Bronco's undercarriage are Dana AdvanTEX independent front and solid rear axles, as well as locking front and rear differentials.
A Choice of Powertrains
Ford gives you a choice of two exceptional powertrains on the 2021 Bronco. The standard engine is a 2.3-liter EcoBoost Turbocharged I4 gas engine paired with a 7-speed manual transmission that features a crawler gear for improved traction. This option produces 270 horsepower and generates 310 pound-feet of torque. A 10-speed automatic transmission is also an option. This engine is standard on the Base, Big Bend, Outer Banks, Badlands, and Black Diamond models, with the Outer Banks featuring the 10-speed automatic transmission only.
The optional powertrain is a 2.7-liter EcoBoost Turbocharged V6 gas engine equipped with a 10-speed automatic transmission. This can produce up to 310 horsepower and generate up to 400 pound-feet of torque. As you can see, the emphasis on both engines is torque in order to provide greater mobility in any environment. The 2.7-liter engine comes standard on the WildTrak and First Edition models of the 2021 Bronco but is available on every trim.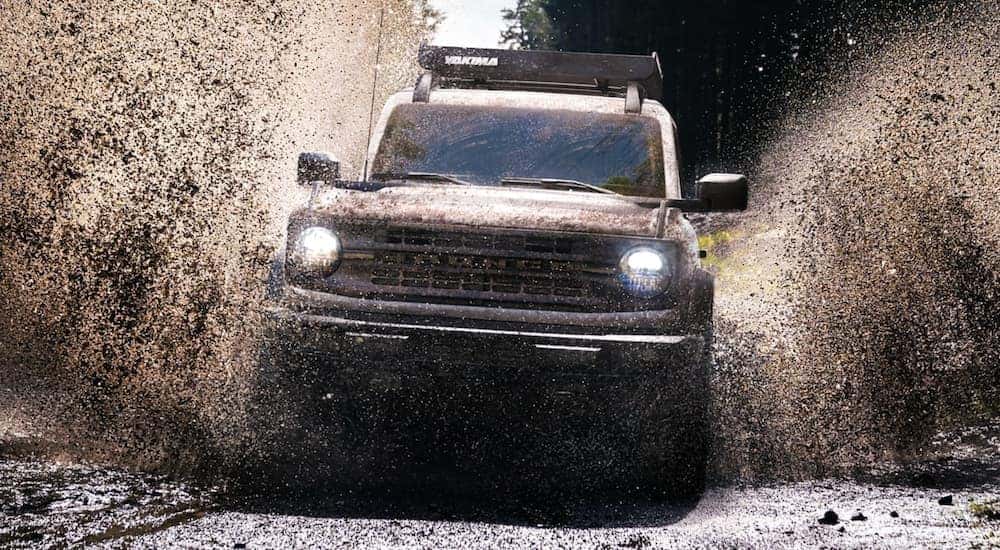 Incomparable Off-Road Performance
All of these features add up to off-road performance unlike anything you have ever enjoyed. That is because the various design features on the 2021 Ford Bronco were intended to handle the different challenges encountered on some of the toughest trails. This is why the Bronco offers the best-in-class ground clearance: 11.5-inches in the 4-door Bronco and 11.6-inches in the 2-door model. This will come in handy when you need to traverse boulders, logs, and other obstacles. The 2021 Bronco also provides available best-in-class water fording of a full 33.5 inches. This should help you get your Bronco through creeks and streambeds without fear of flooding or engine damage.
When you are out off-roading, you need to know that your vehicle can handle the sharp angles caused by traversing rocks, ruts, streams, and other terrain features. You don't want to start up an incline only to find out that your truck or SUV can't handle it. Fortunately, the 2021 Ford Bronco can give you that peace of mind with best-in-class departure and breakover angles. The departure angle on the Bronco is a breathtaking 37.2 degrees, while the breakover angle is an astounding 29 degrees. There is even an aggressive 43.2-degree approach angle available with the Sasquatch package. This attention to off-road performance sets the all-new Ford Bronco apart from other SUVs that pretend to have off-road capabilities but are actually limited at best.
Come in Today and See the Bronco for Yourself
Stop by our dealership today to test drive a 2021 Ford Bronco and let us show you why this is the ideal vehicle if you love going off-roading in the hills, forests, and trails of Tennessee. It is as if Ford designed the Bronco with our great state in mind. From an undercarriage, wheels, and tires built to handle the worst a trail can dish out to a powertrain with enough torque to power you up and over any obstacle in your path, the 2021 Ford Bronco truly has it all. It isn't bragging to say that the Bronco is a G.O.A.T. when it comes to off-roading. This Bronco will go places other SUVs dare not to roam while still providing you with a great vehicle to get around the city during the week